We've reached the end of the stories for Caramel! (4th Vanilla: Winter Break)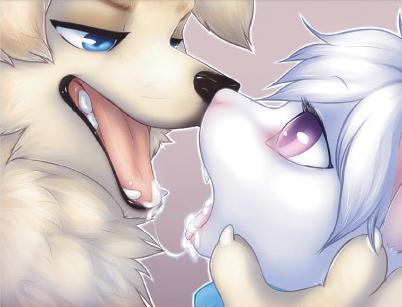 Sebastian and Caramel went home for winter break, and had an exciting time each day!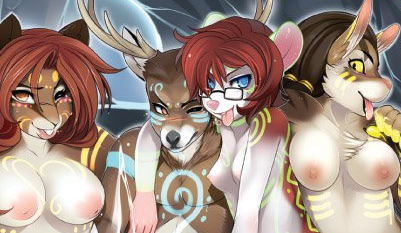 Chessie, Daniel, Strawberry, and the scribe had a successful festival, climaxing at the solet.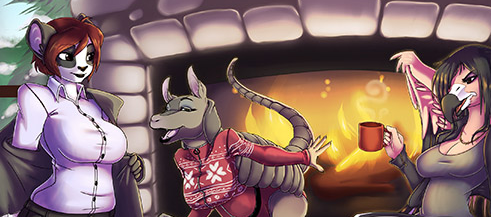 Tandy, Cotton, and Jarla were joined by Amber, Lily, and Daisy to promote Buck's lodge, which was booked all winter.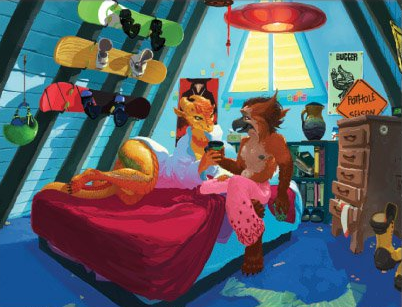 Ashamai and Buck rekindled their relationship, and they finally got closure on their miscommunication in the past.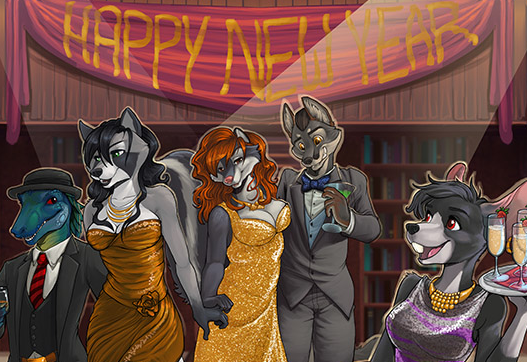 Everyone loved Marlii's New Year's Eve party.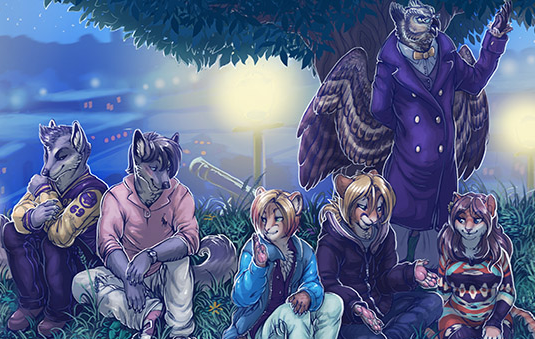 And the Astronomy Club had some serious flirting going on!



...

...but wait! We still have a few more cards left to preview! Let's take a quick peek!

...




Despite foxes being rated #1 most wanted for a theme deck, we completely forgot to preview Amber, even though she's a fan favorite!

Amber is Multi-orgasmic! Most Furres are done after one orgasm, but Multi-orgasmic Furres need to orgasm twice before they'll finally relax on the couch!

...




Lily had kept the Powerhorse 2000 at her bedside for two years, never having an opportunity to use it on anyone! She brought it to Mesa Lodge just for fun, and maybe to intimidate a few folks.

Imagine Lily's surprise when Daisy let her take control of the situation! Many orgasms were had before the cockhead could penetrate her! (Did it even go in...? Daisy won't tell!)

Powerhorse 2000 makes a Furre Generous, which means it gives pleasure in bed first, which means it has a chance of orgasming opposing Furres without taking any pleasure in return!

...




Every night, Lily was exhausted! Sweet Dreams makes your Furres get +1 stamina each time they become refreshed! A Furre in the scene starts out refreshed, and some actions will make her get exhausted (rotate her card 90 degrees to mark that she's exhausted). You have a chance at the beginning of your turn to refresh all your Furres, which is when Sweet Dreams makes them get +1 stamina!

...




Tandy isn't a stripper -- she's a bartender. She just came along for a good, quiet vacation. She didn't expect to meet someone like Lewis, another bartender.

They formed an instant connection after Tandy went to get a drink for herself, and Lewis showed off his meticulous craftsmanship and breakneck efficiency. They traded stories and secrets, hanging out with each other far into the night, eventually running up a tab just so they could sample some of their personal favorite drinks -- and challenge the other to make it, too!

I'm not sure how they managed each other's clothes off, but Lewis's card offers some clues! He's Undeniable, which means cards like Kidnapped can't target him. This shows that he didn't let anyone or anything distract him from paying attention to Tandy and respecting her.

He's also Eager, which means he's ready to enter bed as soon as he's in the scene. So, he wasn't interested in any foreplay or blowjobs. As soon as their clothes came off, he was hard and ready to fuck. And Tandy greatly appreciated that!

It seems like they're an excellent match! Maybe you'll see more of them in the future...? ❤

...

Well, that's it for Caramel! It's been an awesome few months telling these stories! Tomorrow, we'll begin with Brundali Rail Heist, a new set of cards in an industrial steampunk world!

Amber and Powerhorse 2000 can be found in the Seductive Snowbunnies starter set!

Sweet Dreams and Lewis can be found in Caramel booster packs!

Enjoy!

Caramel is available! Get your cards now!

Sorry, comments are closed for this article.

8 comments:



Sanguine on May 4th, 2015 @ 04:40 AM
OMG Sweet Dreams will go well with my Otter Deck!!!!!

Lemonbread on May 2nd, 2015 @ 02:29 PM
That odd moment when I saw that girl in the picture, and it took me 20 seconds to realize that's an armadillo.....

ezekiel_tyr on May 2nd, 2015 @ 09:32 AM
well i know what cards im gona keep my eye out for


Nezumi12 on May 1st, 2015 @ 06:50 PM
even though i like Amber, Lily, and Daisy, Tandy is my favourite.
also glad that Buck and Ashamai finally worked things out.
hopefully there's more stories to come. lots more.

blizleopard on May 1st, 2015 @ 06:40 AM
I have to admit I liked the group pictures for the Astronomy Club and the New Year's Party the most. It sort of brought all the characters created in Strawberry together better, connected them in ways the previous set didn't.

Gamerwolf85 on May 1st, 2015 @ 04:01 AM
Still loving the new art work. Keep them coming.

sirdan87 on Apr 30th, 2015 @ 07:24 PM
Awesome amount of cards to show off!

Kaia_Cougar on Apr 30th, 2015 @ 06:02 PM
Best ending ever! :P


Older news