We fell a few days behind in our April preview schedule, so today you'll be getting a lot of cards previewed!

First off, there's the scribe in charge of the festival's ceremony:

...




Splendid Scribe is a very good Furre to play in the early game -- the low 5 stamina is nothing to worry about. Hir job is to swing and lure your opponent's early Furres into bed to orgasm! If shi orgasms, shi's at least taking someone down with hir!

The scribe can then take some time off to visit Kris!

...




Kris isn't comfortable with a situation unless she's in control. The scribe is happy to tend to her and prepare her for the ceremony! Kris doesn't leave you empty-handed, either! She'll let you draw a card when she orgasms! Looks like she got her story!

You can embody Kris's desire to write with Declined!

...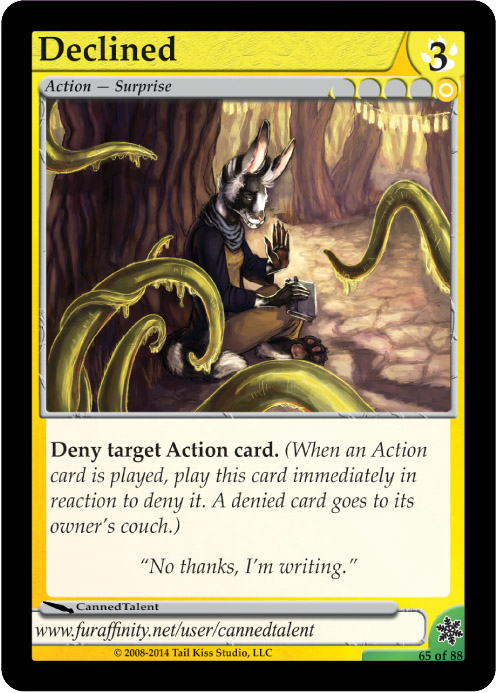 The tentacles didn't see this coming! Declined lets you stop any Action card from happening! You can even decline another Declined!

Speaking of Action cards, let's see what action Chessie has gotten herself into!

...




Chessie's a little busy now! The tentacles have kidnapped her for some fun, and she's accepted! Play Kidnapped to stop any opponent's Furre from entering the scene! (Once a Furre has entered the scene, it's too late! You can't deny something that's already happened!)

Chessie had a lot of fun:

...




Chessie isn't known for getting exhausted, but when tentacle after tentacle comes to play with her, she finally meets her match! Tiring Tentacles will exhaust any one Furre, rendering it useless for one turn -- a perfect card to use if your opponent is saving only one Furre for defense!

And at the end of the day, Chessie missed the entire ceremony! First she played with Strawberry, then she enjoyed the company of the tentacles! By the time she returned to the festival, everyone was already having some post-ceremony fun.

We'll continue this story tomorrow!

Kris Brackenthorn, Kidnapped, and Tiring Tentacles can be found in the Seductive Snowbunnies starter set!

Spendid Scribe and Declined can be found in Caramel booster packs!

Enjoy!

Caramel is available! Get your cards now!

Sorry, comments are closed for this article.

8 comments:



Gamerwolf85 on May 1st, 2015 @ 12:29 AM
Strawberry looks so hot. Love how she is not being limited to just female card art.

Nezumi12 on Apr 28th, 2015 @ 06:05 PM
i'm reminded of a line from Shoggoth on the Roof:
"Around here, tentacles get into just about everything."

Astrid Varelse on Apr 28th, 2015 @ 01:10 PM
3/5 with tentacles, I guess everybody loves tentacles!


blizleopard on Apr 27th, 2015 @ 11:20 PM
I think it would be difficult to love inside of a forest where there's always tentacles coming after you. But at least they're polite about it!

Lemonbread on Apr 27th, 2015 @ 09:28 PM
Uh... that scribe's on fire.... no one?... some water or something?.. ok.

LadySikerra on Apr 27th, 2015 @ 06:35 PM
Wow, so many pretty new cards! Kidnapped and Tiring Tentacles look especially useful (and fun).

ezekiel_tyr on Apr 27th, 2015 @ 06:25 PM
so lots of tenticals ey >.>

sirdan87 on Apr 27th, 2015 @ 01:49 PM
Nice, been waiting for a series of cards like this to come around. Sad though it only otherkin who got it. Well, more power to them I say.


Older news