Gloria and Lecta went as dates to Marlii's new year's party, but after a little fun between the two, they both agreed that it would be even more fun to go look for more partners!

We've seen a lot of Gloria's fun, so let's take at where Lecta's gone to!

...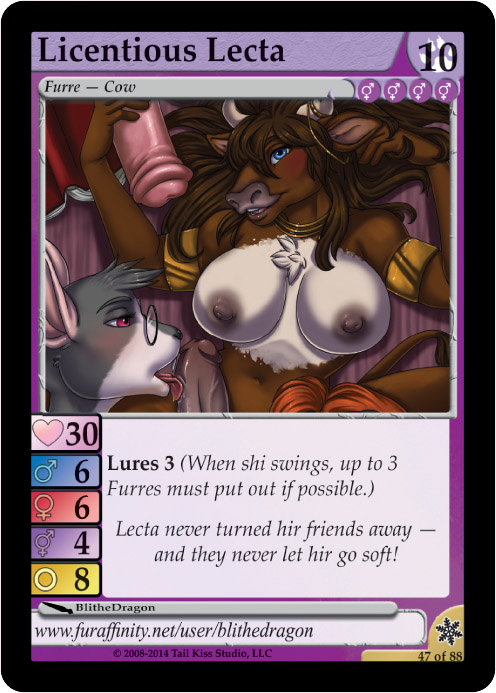 Sascha, Marlii, and Vanna, all at once! (You can see more of the action in the full-art promo version of this card!)

Lecta Lures 3. That means that your opponent must put out with up to 3 Furres, if possible. (Some Furres have powerful skills, but only 5 ❤, so they don't want to enter bed. Lecta is irresistible, though, and they'll easily come crawling to hir when shi swings!)

The only ways to avoid the triple-lure is if your opponent doesn't have enough AP, or if your opponent's Furres are exhausted. And even then, they still have to put 1 or 2 Furres into bed, if possible!

On top of that, Lecta has 30 stamina and high PEs! Wow!

Lecta is found in the Risqué Resolutions 2-player deckbox!

Enjoy!

Caramel is available! Get your cards now!

Sorry, comments are closed for this article.

15 comments:



Nezumi12 on Dec 20th, 2014 @ 03:56 PM
I always thought the BElfs were too skinny for their own good. the goblins would be cute if 1: they had smaller noses/chins or 2: they didn't sound like they were Joisey Goils

dranson13 on Dec 20th, 2014 @ 07:35 AM
@nezumi12 the only theing the horde has for them really is blood elves

Nezumi12 on Dec 19th, 2014 @ 03:39 PM
if female taurens looked more like this, i might play horde once in a while


blizleopard on Dec 19th, 2014 @ 11:04 AM
It's nice to see some furs with some stamina coming out. Endowed Equine and Cousin Grit have some challenger finally!

otaka on Dec 19th, 2014 @ 06:19 AM
i can see y they like her lol

Cheetahfurry on Dec 19th, 2014 @ 06:14 AM
Whoa, what is with all of these furs with 25-30 health. There are a lot of them.

BlueJay on Dec 19th, 2014 @ 03:07 AM
Mmmm, sexy! I wonder who those other persons are.

RainbowKitten on Dec 19th, 2014 @ 01:45 AM
Gah, I want my cards so bad. I can't wait to see each and everyone of them. They all look gorgeous.

Cindrah on Dec 18th, 2014 @ 11:47 PM
wow i just pulled 3 of hir, 2 full art promos and a normal xD weirdest thing was i only got 4 packs

rainydaydance on Dec 18th, 2014 @ 11:15 PM
My only problem with the card is that her breasts are defying gravity while shi's laying on hir back

Lemonbread on Dec 18th, 2014 @ 09:14 PM
The cow goes... "Give me your virgins"... Pre-school taught me wrong XD

Kaia_Cougar on Dec 18th, 2014 @ 08:43 PM
It seems that, despite their reputation as "high PE, low stamina", herms are taking the lead with having the most number of distinct cards with 30 sp.

Sasaya on Dec 18th, 2014 @ 08:24 PM
Sascha? New character or After Hours Technician?

ezekiel_tyr on Dec 18th, 2014 @ 07:32 PM
pffff geeze .... so much power :>

Zeneth_Starr on Dec 18th, 2014 @ 07:22 PM
Mmm...must have this lovely bovine in my harem. Another great power house.


Older news