Anthrocon has come and gone... and now it's time for Gen Con and Megaplex! Wow, time goes by quickly! Iso will be attending Megaplex for us, so stop by his Furoticon table in the dealer room and grab your cards!

If you're looking to play in any Furoticon events this weekend, you'd better sign up quickly! Iso will be taking 20 signups at Megaplex, but signups for Gen Con are already open! If you have a Gen Con badge, you can sign up here.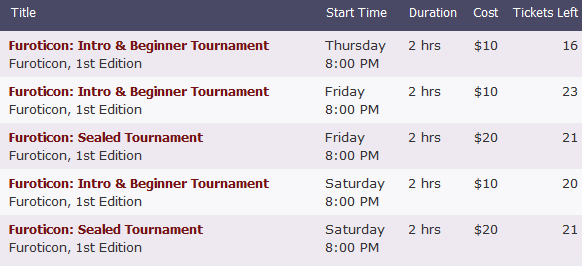 24 tickets available per event!



In other news, we're down to the last batch of preorders to send out. (There were a LOT this time around!) If you have your cards already, I hope you're enjoying the interweaving stories!

I think now would be a great time for a pronunciation guide!


Brundali: Brun - dah - lee
From left to right...
Cirosouyat: Sear - oh - soo - yat
Tsou: Soo
Salacca: Suh - la - kuh
Bokeh: Bo - kuh
From left to right...
Asyari: Ah - see - ar - ee
Wahid: wa - heed
Oromet: Or - uh - met
Plumeria: Ploo - mare - ee - uh
From left to right...
Rambutan: Ram - boo - tan
Tulatu: Too - la - too

From left to right...
Meilianhari: Mel - lee - anna - har - ee
Bandjar: Ban - jar




Are there any other cards in Brundali Rail Heist that you're curious about? Leave a comment below!

Brundali Rail Heist is available! Get your cards now!

Sorry, comments are closed for this article.

9 comments:



rainydaydance on Aug 1st, 2015 @ 02:52 PM
I wish I wasn't a broke college student!!

LadySikerra on Jul 29th, 2015 @ 11:11 AM
Nice, I was pronouncing most of these names correctly already. Though a guide like this is super helpful and awesome.

Gamerwolf85 on Jul 29th, 2015 @ 03:42 AM
Very helpful. Thank you. Also hope the next few cons go good.


Ghostpaw on Jul 29th, 2015 @ 12:36 AM
I got into Furoticon after an on-a-whim purchase at GenCon last year; Looking to up my Dirty Furry Card Game game this year!

Tegome on Jul 28th, 2015 @ 11:14 PM
Huh. I thought Cirosouyat was pronounced with a hard C. The more you know!

ezekiel_tyr on Jul 28th, 2015 @ 10:39 PM
well now this is something neat to help people with

Kaia_Cougar on Jul 28th, 2015 @ 05:56 PM
Ok, so I was pronouncing Bokeh wrong, and I may have been putting too much H in Meilienhari. But otherwise, pretty good.

Seppel on Jul 28th, 2015 @ 05:55 PM
Brun, broon... they're pretty close, and I believe I've pronounced them both ways. So you're 13 for 13. :)

Nezumi12 on Jul 28th, 2015 @ 03:56 PM
darn. i was 12 for 13.
i was pronouncing it Broon' dah lee


Older news