Preorders begin tonight and we haven't even revealed the starter decks? Blasphemy! Let's take a look at what decks you're going to get this time!

First up, Bokeh and his crew get a deck of their own!



Going All In -- a Male / Otherkind starter deck!



Going All In is a deck themed around Meddlers and Renegades! Distract your opponent's strongest Furres with your Meddlers, then swing in strong with your Renegades! And we've got good news for fans of males: this is the gayest deck we've made since the Tanglebrook Wolf deck!

Bokeh and Tsou will be making some hot appearances!

...

Oh, and we can't forget about everyone at the Kerno Headquarters!



The Full Monte -- a Female / Herm starter deck!



The Full Monte is a deck themed around Feisty and Tantric Furres! Outlast your opponents with your Tantric Furres, while your Feisty Furres supply you with nonstop energy! Dancing, gambling, sex, and tits galore!

Plumeria and Oromet will get into all sorts of mischief in this deck!

...

Well, there you go! A Male/Otherkind deck and a Female/Herm deck! We hope you...

...

Wait, what's that?

A third deck?

And it's focused around those lovely technicians and their constructs?

...



Ace in the Hole -- a Female / Otherkind deck!



Ace in the Hole is a deck themed around Tireless Constructs and Multi-Orgasmic Technicians! Your deck is all about keeping your Furres refreshed so they can act as both offense and defense! This deck is full of soft curves and hard metal!

And as luck would have it, Salacca and Cirosouyat are the stars of this deck!

...

As always, we have plenty of booster packs to sate your lust:



Booster Packs! 10 randomized cards inside each one!



I can't wait to open some boosters!

And I'm looking forward to playing on some awesome new playmats!

...


Salacca and Boli'ana are looking great!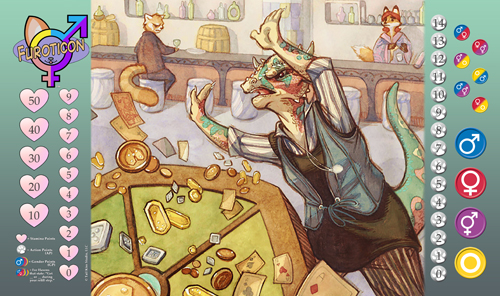 Table flip!



Oh man, everything looks awesome! What else will we be offering?

Well, we have an important notice for those of you seeking collector's box sets this year: we're currently working with a new box-printer who is going to supply us with sturdier boxes at a cheaper cost! Unfortunately, the print times are much longer than what we would expect. So, for this set, we will be offering Heist-themed collector's binders instead! Thank you for your understanding as we strive to improve the collector's items we offer! ❤

That's about it! I'm so excited for Brundali Rail Heist!

Brundali preorders begin tonight!

Sorry, comments are closed for this article.

7 comments:



cuddles on Jun 1st, 2015 @ 06:08 AM
Getting a table flip playmat. Can't wait to have an improved collector box.

Syrup on May 31st, 2015 @ 09:32 PM
*excitedly refreshes the store page*

Gamerwolf85 on May 31st, 2015 @ 09:28 PM
Getting money together now for preorder. Cant wait til july.


Lemonbread on May 31st, 2015 @ 09:19 PM
Like the starter deck varieties. Looks like a nice spread of choices.


ezekiel_tyr on May 31st, 2015 @ 07:09 PM
So heres a question, is there gona be a box for this set

LadySikerra on May 31st, 2015 @ 06:15 PM
Yay, so excited! Definitely going to be picking up that female/herm deck when I get a bit of extra cash, and maybe the female/otherkind one, too.

Nezumi12 on May 31st, 2015 @ 05:51 PM
already saving up for this. hopefully, i can get a bunch of good stuff.
i at least want all three decks.


Older news