As the Elusory gets its last check-over by the Kerno Technicians, the Kerno live it up in the Headquarter's bar, a room that is used not just for eating and drinking, but also poker! This is also the room with the burlesque stage, because who doesn't like combining entertainments?

The night before the Heist, there was, as usual, a rousing game of poker being held.

...



Art by Ian Jay



...

And, as always seems to be the case when you put a group of misfits and ne'er-do-wells in the same place, there was a fair amount of rule bending...

...



Art by Count Darkhugs



...

...which is wholeheartedly frowned upon by the Kerno. Though everyone likes a fair bit of fun now and then, this was a big night for the Kerno, so there were many in attendance.

This meant that all it took was for the wrong hot-head to get burned by some low-down cheat, and suddenly the tables would turn!

...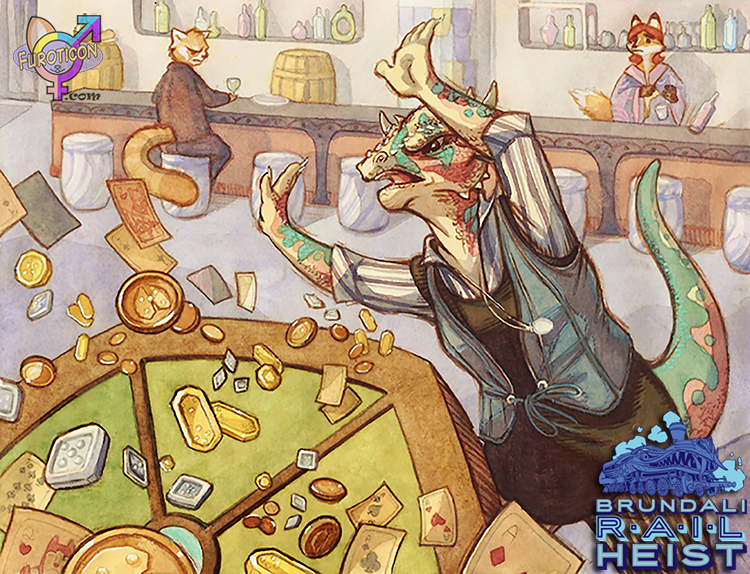 Art by Talenshi



...

After the immediate troublemakers were taken care of, all you'd have to worry about are the *ahem* smaller distractions of sitting at a friendly table.

...



Art by Roum



...

But, once you get past all of that, you might be lucky like Oromet, get handed the right cards, and win big!

...



Art by Zhivago



...

Nothing like an awesome poker game to get everyone thinking strategy!

Tomorrow is Part Two! The big burlesque send-off!

Brundali Rail Heist preorders begin June 1st!

Sorry, comments are closed for this article.

11 comments:



JavelinChimera on May 14th, 2015 @ 11:25 PM
In the spirit of my custom Furoticon badge, I approve of this table flip.

ezekiel_tyr on May 14th, 2015 @ 04:48 PM
im a boss at poker :D

Lemonbread on May 14th, 2015 @ 01:59 PM
Friendly lady is very friendly to friendly friend playing a friendly game of poker among friends..... yes, I went there XD


Nezumi12 on May 14th, 2015 @ 12:45 PM
I once saw a comment that when asked "what would Jesus do?" that flipping tables and chasing people with a whip were within the realm of possibility.
Also, i think that table is a little more than just "friendly" ;)

Zeneth_Starr on May 14th, 2015 @ 09:15 AM
Lovely herm leopard there. And shi's practicing hir distraction techniques.

cuddles on May 14th, 2015 @ 07:42 AM
Seems when you have the ace of spades, you just so happen to get the other three.

Draconis on May 14th, 2015 @ 07:10 AM
Always leave it to Poker to be a direct result of table flipping. That and Rage inducing games of Magic. :P

Some great stuff here. And I have to agree with Kaia, that is indeed one very sexy Clouded Leopard.

otaka on May 14th, 2015 @ 06:57 AM
cant wait to play story is getting better every time

Gamerwolf85 on May 14th, 2015 @ 12:56 AM
Oromet seems to be having a great night, start with a overly friendly poker game, add some dirty under the table fun, and top it off with winning the jackpot. Sounds like a great night to me. I would join in this game any time.

blizleopard on May 14th, 2015 @ 12:07 AM
That is one angry looking back in the background.

Kaia_Cougar on May 13th, 2015 @ 11:42 PM
That clouded leopard is awfully sexy. >.>


Older news