We're going to try something new this time: we're going to preview some Brundali Rail Heist cards early! As we've mentioned, Bai Watu and Jembravonti are the two countries on this industrious island. There's plenty of people and stories to tell, and Brundali Rail Heist focuses on a select few factions.

A whole new world with a whole new set of characters means... a whole new set of skills! Brundali Rail Heist features all sorts of characters, including shady thieves, haughty fashionistas, energetic dancers, and more! Let's see what's new in Heist!


---



RENEGADE



A Renegade provides support to a team as a whole. They're ready to join any team and get to the front of the line, as long as there's fun to be had.

...




As a Renegade, Yang gets a +3 PE bonus to all of his PEs when he's the only swinging Furre. Notice how Yang's PEs are 2 / 2 / 2 / 2. When he swings alone, his Renegade bonus increases his PEs to 5 / 5 / 5 / 5 for this turn.

Renegade is a triggered skill. There's no cost to use it. Simply make it trigger by swinging with the Renegade!

There's no bonus when a Renegade puts out. Renegade is a strictly offense-based skill.


---



KINK



Lots of people have a kink or two -- and your harem works better when you satisfy their kinks!

...




When a card has a Kink, each instance of its Kink means you can play it for 1 AP less!

For example, Maid Otosa costs 8 AP and 1 Female Point, but she has a kink for Furres -- specifically Furres your opponents control! So if you opponent has three Furres in the scene, that reduces Maid Otosa's AP cost by 3, from 8 AP to 5 AP, so you only spend 5 AP and 1 Female Point to play her!

A Kink only reduces a card's AP cost. It never reduces a card's GP costs.


---




FEISTY



A Feisty character is ready to jump head-first into excitement and worry about consequences later. They get things done more efficiently when they're in the middle of the action!

...




A Feisty Furre gives you an extra 1 AP at the beginning of your turn... if it's exhausted! But wait, aren't Furres useless when they're exhausted? Not anymore!

A Furre is either refreshed (facing you) or exhausted (turned to its side).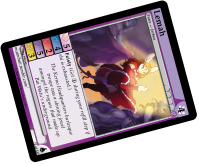 Lemah is exhausted!



A Furre starts out refreshed, then becomes exhausted by swinging or by using certain skills.

Feisty is a triggered skill, just like Renegade. There's no cost to use it. Simply wait for it to trigger during your refill step!

After the refill step is the refresh step, where you can spend 1 AP to refresh everything you control. If you refresh any Feisty Furres this way, you don't lose the extra AP that you gained in the refill step. Remember that the refresh step is all or nothing! You can either refresh everything you control or nothing you control.

Oh, and finally, if a Furre is somehow Feisty twice, you'll get 2 AP instead of 1 AP. ❤


---




MEDDLER



A Meddler is a tricky character. Either by sabotage, seduction, or distraction, a Meddler delays another character from doing what they want to do.

...




To make a Meddler meddle, choose a Furre to meddle, spend 1 AP, and exhaust the Meddler. The meddled Furre now costs an extra 2 AP to put out (defend).

Meddling is an activated skill, so you can activate it at any time during any player's main step! However, like all Furres, it can't be exhausted until your next turn, so you'll have to wait a turn before meddling!

A Furre can be meddled multiple times (by multiple meddlers) to increase its cost to put out!

You have to meddle BEFORE your opponent chooses which Furres put out. Conversely, your opponent should ask if you want to meddle anyone BEFORE choosing which Furres put out.

Your opponent doesn't need to put out with a meddled Furre! But you can use Meddlers to your advantage to decide who will enter bed against your swinging Furres!

...

And that's all for now! I hope this gives you some insight into what's going on behind the scenes in Brundali Rail Heist!

The heist begins this summer!

Brundali Rail Heist preorders start June 1st!

Sorry, comments are closed for this article.

17 comments:



ezekiel_tyr on May 13th, 2015 @ 05:31 PM
just dang, a bunch of new abilitys i need to learn

yuko on May 12th, 2015 @ 12:31 PM
They look like quite the team ;)

LadySikerra on May 11th, 2015 @ 07:51 PM
Really interested to see more of the Kink mechanic. It seems like the possibilities for different kinks are endless...


Lemonbread on May 9th, 2015 @ 09:00 AM
Not gonna lie, was stoked they have a Kirin as one of the cards :D

blizleopard on May 8th, 2015 @ 08:24 AM
Oh, these are going to be some fun new mechanics. I can already see some good uses for meddler, depending on what cards are set up with it.

Triss on May 8th, 2015 @ 06:58 AM
I can see how generally all of these are good concepts to build decks around. Very fun I think!

polkakitty on May 8th, 2015 @ 05:38 AM
There are some interesting ideas here, especially with Feisty. It kind of seems like the ideal Herm skill, since it encourages you to go on the offense early and often. If you have one Feisty Furre, then for all practical purposes, you can refresh that Furre for free. If you have more, you might be able to get a powerhouse like Solo Dungeon or Pride Commander Osee out earlier....

Kink has a lot of potential, but I kind of have to wonder if most of the Kink skills relate to things on your own side of the field, enabling synergies with cards that have the right properties, or to things on your opponent's side, making them good for countering a particular strategy.

And I wonder about the usefulness of Renegade. It's just "Renegade", not "Renegade 3", so apparently all Furres with that skill get the same bonus, and even with Yang's Renegade skill, it seems like it would be better for him to swing with another Furre rather than by himself. The second Furre would allow you to pleasure 2 opposing Furres instead of 1, and would probably add more than 3 pleasure to each of them besides. So I think Males in this set must also have some kind of support skills to make it more worthwhile to swing with a single Furre, like maybe making that Furre Generous or Tantric or something....

cuddles on May 8th, 2015 @ 05:09 AM
A deck made around the kink and feisty skills may be a fun idea to try.

Draconis on May 8th, 2015 @ 01:42 AM
Nezumi, as far as I am aware, the only limiting factor is the cards themselves. I do not believe there is any rule that currently caps AP generated per turn. Same for GP.

Seppel and his dev team balance things pretty well that when it concerns AP, you have factors that limit it naturally like 3 of a card etc.

So, between 40 cards in a deck, 3 of each unless it's a home haven, it works out pretty well.

The most I've managed in my decks is 19 ap. I'd be hard pressed to imagine a tourney competitive deck that could manage higher than say, 25. And even then I don't think that's possible in a competition deck that can win games.

Nezumi12 on May 8th, 2015 @ 12:50 AM
love the new abilities. i may have to grab a bunch of those Feisty Herms for a deck.
is there a max limit on how much AP you can get at once? i didn't see one in the comprehensive rules, but between havens, furres (especially with Feisty soon to be available), and other cards it wouldn't be impossible to rack up nearly 50 AP in a single round.

Taz on May 8th, 2015 @ 12:41 AM
@Kaia: FAV was RIDONCULOUSLY huge. Put simply, doing a set of a scope as massive as Vell's End every year would be pretty overwhelming for all parties involved. Please appreciate a set like that at least as a treat. :)

Kaia_Cougar on May 7th, 2015 @ 11:11 PM
Awesome new skills, can't wait to see more.

Though...137 makes for a smaller set than recent trends.

Gamerwolf85 on May 7th, 2015 @ 11:09 PM
I am looking forward to working these new skills into my decks. Also like the card art. June can not get here fast enough.

Draconis on May 7th, 2015 @ 08:49 PM
Wow, didn't expect to skill full card spoilers so soon. I have to say though, I love Lemah's card and hir artwork. Very cute.



otaka on May 7th, 2015 @ 08:45 PM
realy cool cant wait to see it in aciton

Taz on May 7th, 2015 @ 05:42 PM
Multiple instances of Feisty stack. It and Kink are a couple of my favorite exciting mechanics from this set! :)

Tsumi on May 7th, 2015 @ 05:36 PM
DOES FEISTY STACK!? This could be quite the AP generating mechanic! If so, I like...


Older news