Motor City Furcon was awesome! And I've finally recovered from it!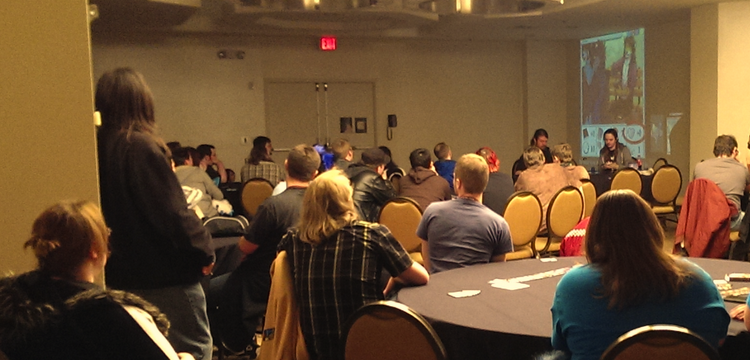 The room this year was so nice!



Once again, the convention was a ton of fun, and there was never any downtime! And you guys walked home with every card I brought!

Let's take a look at a card that a lot of people loved this past weekend:

...




Knock the Walls is a one-shot Action card that gets rid of a treat and gives your opponent some pleasure, too! I had a lot of players ask me about who the "controller" of a Treat is, and for the most part, the answer is simple: the person who played the card is the controller of the card!

The Herm starter deck is notable for its scary Treats, and this is a great way to get back at them -- if your opponent plays an Alteration on one of your Furres, that opponent is still the controller of the Alteration! Knock that Buzzerfly off the wall and give your opponent 3 pleasure!

Knock the Walls can be found in the Risqué Resolutions starter set!

Enjoy!

Caramel is available! Get your cards now!

Sorry, comments are closed for this article.

9 comments:



Albero-Warling on Apr 2nd, 2015 @ 07:55 PM
So Hot! I'm totally going to add this gem to my deck.

dranson13 on Apr 2nd, 2015 @ 07:42 AM
to bad i dont have male in my deck i hate treats sometimes


Lemonbread on Apr 1st, 2015 @ 09:18 AM
Looking forward to you guys coming to Grand Rapids. It's actually close enough for me to attend :D


Skye23 on Mar 31st, 2015 @ 08:43 PM
Cant wait for you guys to come back to Dallas so I can learn this game better

Nezumi12 on Mar 31st, 2015 @ 11:15 AM
glad to hear the con was so successful. you may have to start bringing more cards to cons. of course that means printing more, which requires more money, which requires selling more cards, which requires printing more cards, which...
if you're not careful, you could end up as popular and successful as Magic or Pokemon ;)

@ezekiel: if you can't remember, you probably weren't. lol

blizleopard on Mar 30th, 2015 @ 10:20 PM
I still have a hard time using one-shots like this. I know it's a stupid habit of mine, but what can you do?

Gamerwolf85 on Mar 30th, 2015 @ 09:57 PM
Utility cards like this are always a nice boost. And speaking of Cons cant wait to see you all at MegaCon in April.

Ndarren87 on Mar 30th, 2015 @ 09:10 PM
This seems really useful in a control/burn deck.
Probably going to pick up the starter for it and the other cards.

ezekiel_tyr on Mar 30th, 2015 @ 08:51 PM
Was this the one i was sober at :D?


Older news