The squirrels are leaving the nest, and taking with them a few friends -- Sigil, Mahsroh, and Soap! (Seppel & I are so excited!)

Are you going to be part of the lucky crowd that's going to be catching us all at Origins Game Fair 2014 in Columbus, Ohio this weekend? I sure hope so!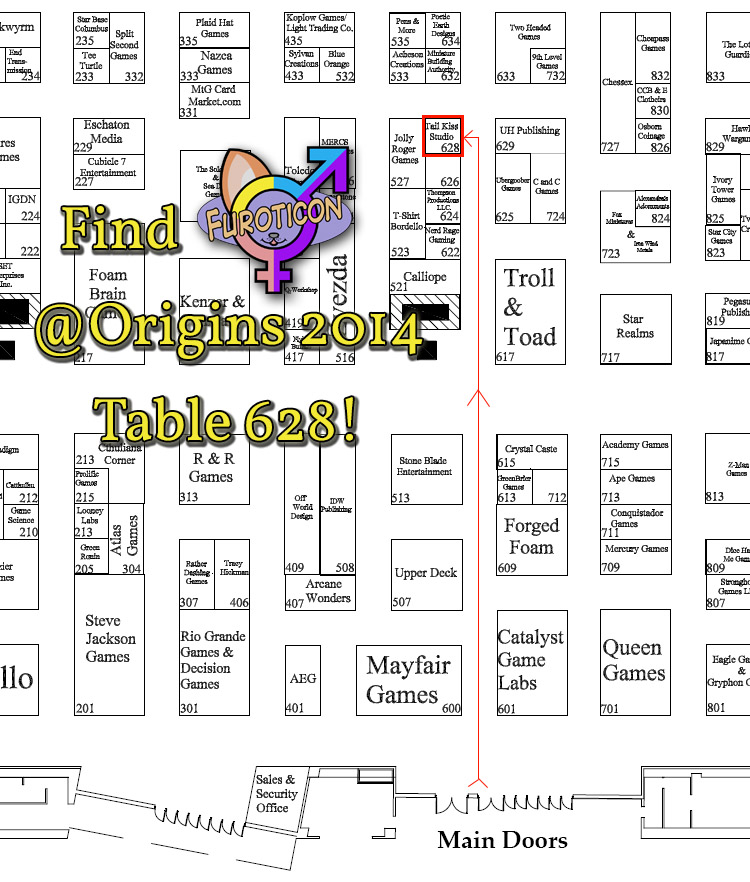 The Studio is a straight shot from the main doors!



Not only are we chillin' with a bunch of gamers, but we're doing it for a whole extra day than we usually do!

Exhibit Hall Hours
Thursday ~ 10am-6pm
Friday ~ 10am-6pm
Saturday ~ 10am-6pm
Sunday ~ 10am-4pm

One of the coolest things about Origins -- beyond all the sweet games, of course -- is how many events take place! (You can download their Game Grid here.)

So many events, so little time...but, of course, there's always time for Furoticon!

That's right, we've netted ourselves a couple of awesome events this year, and you should join in on the fun!

Friday - GCCC - E172

9 p.m. - How to Play/Open Gaming! - $2.00 - Come learn how to play Furoticon, the hottest furry card game out there! We'll provide Demo decks to anyone who doesn't have their own cards!
Sign up is required at the Event Sign-up Area right outside the Dealer Room.

Saturday - GCCC - E172

9 p.m. - Beginner Tournament - $10.00 - Compete against other Beginners using a 3rd Vanilla Strawberry 20-card mini-deck in a 4-top format! Everyone gets to keep the deck they play with, and everyone will win a prize!
Sign up is required at the Event Sign-up Area right outside the Dealer Room.



~*~*~


We hope to see returning fans and new ones as we step back into Origins for our second year! Cheers!

Sorry, comments are closed for this article.

5 comments:



Digclaw on Jun 12th, 2014 @ 10:10 PM
Just had My fist day at this years Origina and already bought some furoticon goodness, Probably gonna buy more before the weekend is out

ezekiel_tyr on Jun 12th, 2014 @ 07:43 PM
hmm somewhere i probably couldnt go lol

sirdan87 on Jun 11th, 2014 @ 05:09 PM
Wish you guys the best and most importantly, do have fun!


Nezumi12 on Jun 11th, 2014 @ 01:05 PM
I'd love to go Origins sometime. Hopefully i can make it a year when you guys are there.

EdwardHyena on Jun 11th, 2014 @ 11:50 AM
I hope I can drop by, but I may not be cleared for that kind of activity yet. :/


Older news