There's only one hour to go until Fortune at Vell's End preorders begin, so I'd better preview the last starter deck!

What time is it? Adventure Time!




In this deck, you'll find daring adventurers on sexy quests! Sikaah meets the Jinvon! Hibiscus, Madita, and Kasim make appearances in the deck, and the awesome pair of Fake and Jinn will show up, too!

Here's a reminder card about the new skill, Adventurer!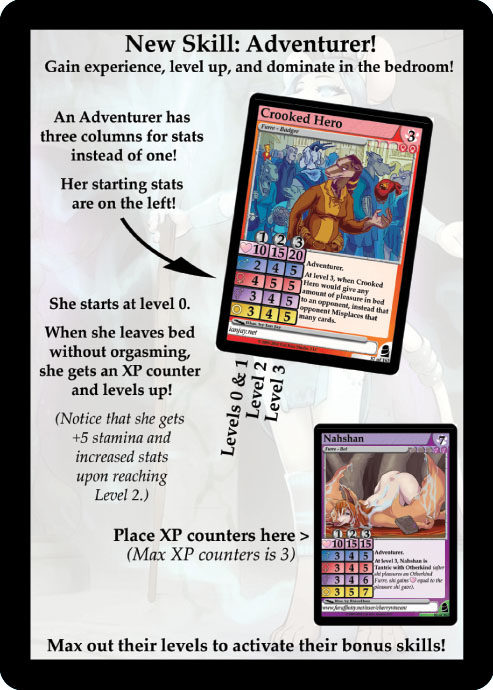 It's almost adventure time! Fortune at Vell's End preorders begin tonight!
Sorry, comments are closed for this article.
5 comments:
Lafitte on Jun 1st, 2014 @ 03:28 PM
Still hiding Kasim's card, huh? She appears in the story, the deck's box art, and apparently two starter decks and you're hiding her. Makes me suspect her card is AWESOME!

Magetorment on May 31st, 2014 @ 11:54 PM
Yay, Crooked Hero gets spoiled. Man the art on that one is in my personal top ten for this set. Love disapproving lizard mom.

@Nezumi: You should. Each of these decks are fun right out of the box and a great way to get familiar with the new mechanics.

@Zeneth: Glutton only makes up a small portion of the set but we wanted to show off all the new mechanics in the starters.

Zeneth_Starr on May 31st, 2014 @ 08:49 PM
I wasn't expecting a deck for gluttons since it's only 9% of this set. But I don't mind.

Also, I like that the starters don't obviously counter each other.


Nezumi12 on May 31st, 2014 @ 08:26 PM
i'm gonna have to try to get myself one of each of these decks.

Kaia_Cougar on May 31st, 2014 @ 08:17 PM
Shut up and take my Furos already! :P


Older news