Rock-bone sells slaves! You buy slave!

...



Rock-bone is a gruff minotaur with a passion for slaves and money! As a Sadist 1, after he gives pleasure, he gives 1 pain counters. Most Furres get -1 to all PEs for each pain counter, but some are Masochists that love pain and get +1 to all PEs instead! (Rock-bone has no idea what to do with Masochists!)

His second skill is a "fixed" version of his original skill from Triskelion: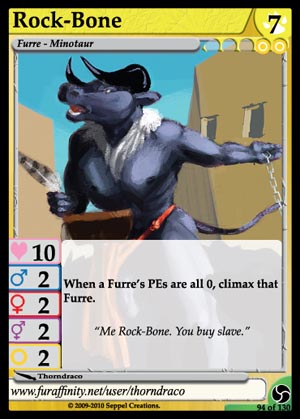 This version of Rock-bone is out-of-print, thankfully.

Now, you might be wondering, "What's the big deal about the wording of the skill?" And I have a very simple answer: The original skill had to be checked every time anything happened to a Furre. (It also creates a timing nightmare in Furoticon Online!) The fixed version is a single check of the scene at the beginning of your turn! That's a lot easier than having the anxiety of checking every Furre at every moment during gameplay!

Regardless, if you have a harem of Sadists, you should add Rock-bone to your harem to make sure your opponent's Furres are hauled off before they can recover!

Rock-bone, Auctioneer can be found in the booster packs of Di'Ahla's Awakening!

Enjoy!

Get your cards now! Di'Ahla's Awakening is available! Check Furoticon.com for new previews!

Sorry, comments are closed for this article.

7 comments:



Nezumi12 on Apr 10th, 2014 @ 12:57 PM
yeah, that reworking of his ability is a major improvement. even without the sadist or the increase to his stats (which just makes him better)

Zeneth_Starr on Apr 10th, 2014 @ 09:14 AM
He'd be a good combo with sit and stat.

ezekiel_tyr on Apr 10th, 2014 @ 06:15 AM
hmmm that card could be a problem if you have a bunch of cards who can lower your PE


RainbowKitten on Apr 10th, 2014 @ 01:02 AM
I have a deck built around Rock-bone. It's one of my favorite decks. :-)

polkakitty on Apr 9th, 2014 @ 06:09 PM
Rock-Bone + The Monolith was much better, actually =3

On the plus side, though, Sadists seem to have gotten a real upgrade in Di'Ahla's Awakening. With cards like Glisten's Gloves and Sit and Stay, I think it's more feasible to bring an opposing Furre's PEs down to 0 with pain counters, which I'm pretty sure was how the original Rock-Bone was meant to be used rather than as a cheap way of instantly climaxing Furres. (And with his upgraded stats, Rock-bone, Auctioneer is a good defender even if you can't bring anyone's PEs to 0.)

Lafitte on Apr 9th, 2014 @ 05:48 PM
Yeah, that laziness trick was incredibly useful. Honestly, stopping that is probably half the reason they changed it. I mean, it was pretty cheap for an auto-climax of anything.

Kehran_Remsus on Apr 9th, 2014 @ 05:13 PM
but the new one is harder to combo with Laziness.


Older news