Oops, we missed a few previews! To make up for it, here's two new card previews!

Caros and Arayo are Guild leaders in Di'Ahla. When they start getting into arguments over politics, Rhalo usually has to be the much-disdained voice of reason.

...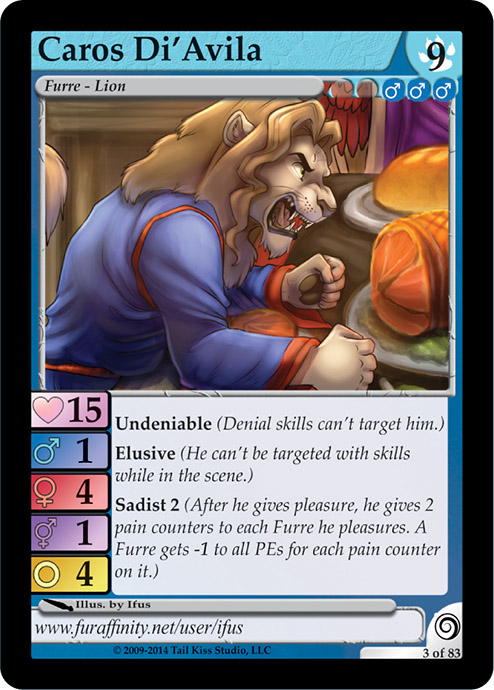 Caros is full of skills!

Undeniable is something we've seen before -- just not as a keyword:



He can't be denied! He's Undeniable!



Denial skills stop a Furre from entering the scene (denial skills are mostly found on Otherkind cards). But once the Furre has already entered the scene, it's too late to deny!

You could still hit a Furre with other skills, but not Caros -- he's Elusive, which means any Actions or Skills that say target Furre can't target Caros! For example:



Caros can't be swapped!



When Lecta enters the scene, she can swap the control of two Furres -- your Furre becomes your opponent's Furre, and vice-versa.

However, with Caros under your control, your opponent's Lecta can't take him away, because he's Elusive! Lecta can't find a way to get him to make the swap!

Caros's third and final skill is Sadist 2, which means he gives pain while in bed. He bites rough!

And because he's both Undeniable and Elusive, your opponent will have to get in bed with Caros, no matter what!

...

Okay, that was a lot about one card! Let's move right on to Caros's enemy, Arayo!

...




Arayo is a Submissive Masochist. He puts out for free (Submissive), and gains a better ability to pleasure everyone when Caros bites him (Masochist)!

Instead of normally getting -1 to all PEs (Pleasuring Experience, the four "attack" powers below his stamina) for each pain counter on Arayo, he gets +1 to all PEs! Caros is no match for Arayo!

Enjoy!


Di'Ahla's Awakening preorders are available now! Check Furoticon.com each day for new previews!

The Winter Freebie Giveaway lasts until December 31st! (Or until supplies last.)

Sorry, comments are closed for this article.

11 comments:



badchinesetakeout on Dec 14th, 2013 @ 06:18 PM
My posts won't post, does anybody else have this problem

SoubiGlowheart on Dec 11th, 2013 @ 09:00 PM
Lecta is dominate and submissive? Thats awesome :p

KoutaLeon on Dec 11th, 2013 @ 04:55 PM
Lecta? I didn't know about that card. It's going right to my deck of sexy things :B


Otlan on Dec 11th, 2013 @ 09:00 AM
Hmmm, now if only you could attack your own Furs, this would be an effective Combo.

ezekiel_tyr on Dec 10th, 2013 @ 11:20 PM
....is caros and arayos arts sapose to be connected?

Taz on Dec 10th, 2013 @ 10:02 PM
Of course, I suppose one shouldn't dismiss Caros entirely, considering that Lion decks generally don't have a very hard time playing things. He can offer those decks the opportunity to ask a question that can be very hard to answer: 2 pain, or . . . 2 pain?

Taz on Dec 10th, 2013 @ 09:53 PM
Arayo is a far more cost-effective Furre--especially considering that he's a Masochist!

So . . . what's the head of head of Guild Laint doing with higher Female and Herm PEs, and what's the head of Guild Freaking Avila with low PEs in general? Inquiring minds wish to know~.

Taylona on Dec 10th, 2013 @ 08:41 PM
These could be a pretty even match if played correctly!

BlueJay on Dec 10th, 2013 @ 05:46 PM
Oh wow, those two are really packing.

PheenX on Dec 10th, 2013 @ 04:20 PM
i detect another multicard puzzle picture

Nezumi12 on Dec 10th, 2013 @ 04:17 PM
the "untargetable" keyword ("elusive" in this case) is a good one to have on a card. however, most people fail to consider global effects. they don't target cards so their effects still apply.

and that's why i like using globals.


Older news