SilentRavyn is auctioning off the original sketch of Alphus Shaman, along with a color print and a copy of the card itself!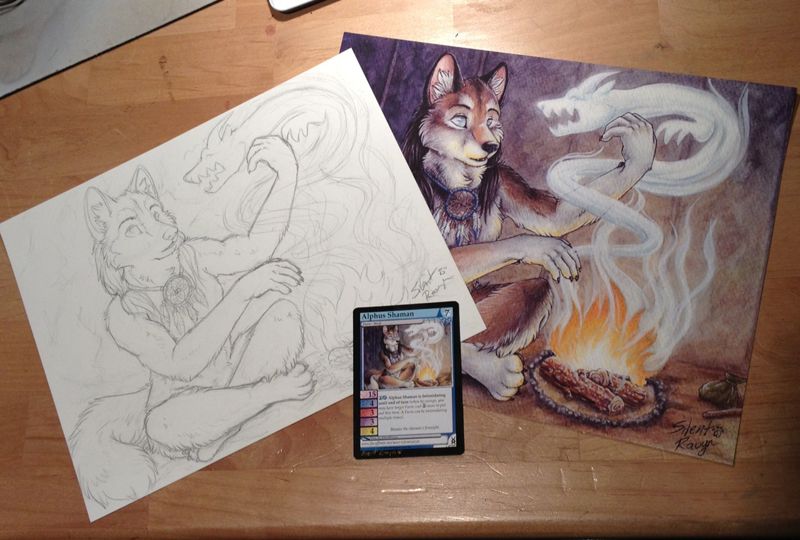 Bid on it!



A Shaman is known after they reach a certain age, when their powers start to become evident in the way they look at the world. Many factors that would be expected to matter -- family line, mental prowess, size, success -- never affected the way the power was passed down. When a Shaman's power comes to fruition, they are given a simple corded necklace that is said to help shape and focus their power. These are in honor of the necklaces that the Drachin themselves are said to wear to do the same task.

The auction ends on the 8th! Don't pass this up!

Sorry, comments are closed for this article.

7 comments:



Nezumi12 on Apr 8th, 2013 @ 10:08 PM
not bad item, but i prefer finished art. prelim sketches don't do justice to the idea, IMHO.

KoutaLeon on Apr 5th, 2013 @ 06:04 PM
Sweet Christmas! I want to have those D: It's so awesome art >.<

Kaia_Cougar on Apr 5th, 2013 @ 08:43 AM
I have to say, while I've always had a fancy for pencil lined art...the color on this one really brings it to life.


ezekiel_tyr on Apr 5th, 2013 @ 07:57 AM
oh thats a pritty peace of work there though doubt id be able to afford it

Vazz on Apr 4th, 2013 @ 11:44 PM
I do like the artwork might have to bid on this

Jurann on Apr 4th, 2013 @ 11:41 PM
Woohoo, go go FurBuy auction! =D Such a lovely piece, my only want is that it were more risque. ;)

Drex on Apr 4th, 2013 @ 08:13 PM
Neat! I like the art on that one. ^^


Older news