Yesterday, the Boy Toy got to talk on the phone with Grizzwald for the first time. The conversation got heated, and Grizzwald made the Boy Toy cum all over himself in bed.

Now you can do it too!





You can make any Furre masturbate in just 4 days!

Let's get to know Grizzwald a little better! Grizzwald's pretty good at getting his way. He's a charmer, he's wealthy, and he's very generous!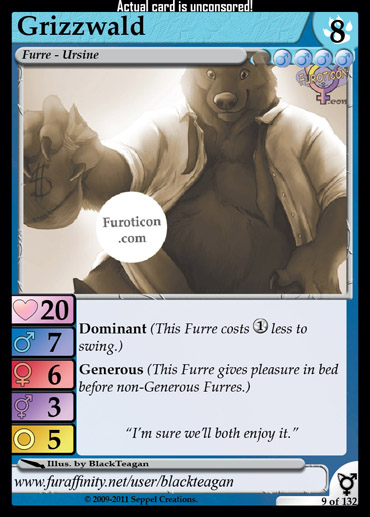 Grizzwald is Dominant -- that means he swings for free.

Grizzwald is also Generous -- that means he gives pleasure in bed first. For example, he has a Male PE of 7, so if he gets into bed with a 5-stamina Boy Toy, he'll make the Boy Toy orgasm before Boy Toy can give any pleasure!

The grizzly bear also boasts some impressive stats. And in the bottom right, you can see his rarity. Gold is rare, green is uncommon, and white is common.

Wait... he's a common? Are we crazy?

Find out on June 24th! :)









Older news