Anthrocon is just around the corner!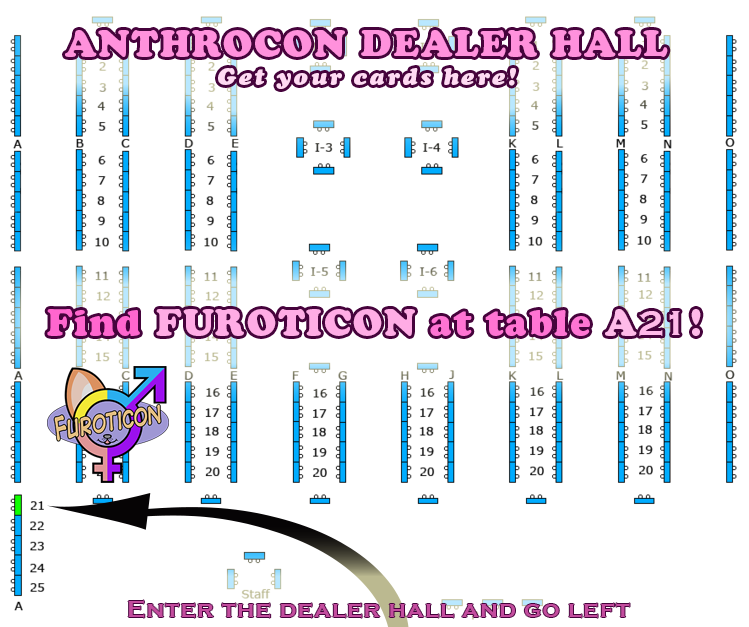 The dealer hall schedule is:
Friday: 12p - 6p
Saturday: 10p - 6p
Sunday: 10p - 4p

While you're there, pick up a sweet deal!

...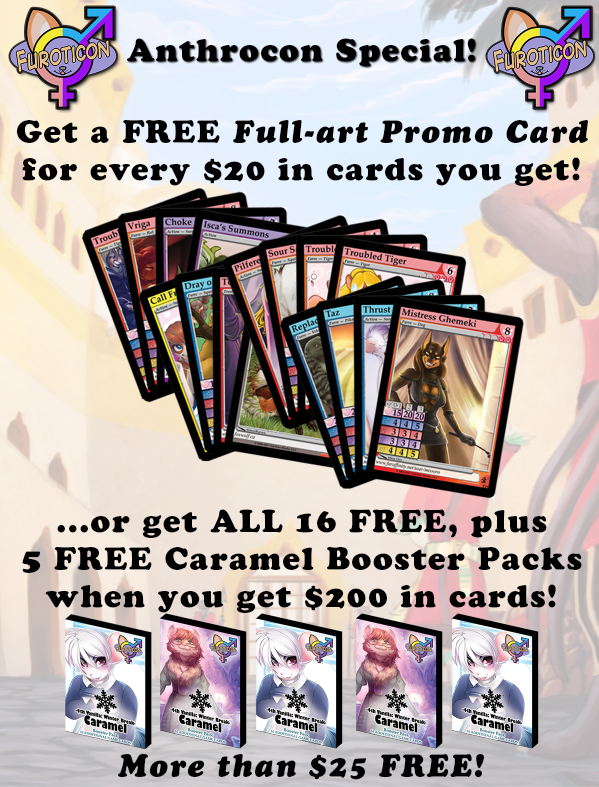 And that's not all -- we will have out-of-stock cards available, too!

- Brundali Rail Heist

- Strawberry

- Tribes of Tanglebrook

- 2nd Vanilla

- Triskelion

- 1st Vanilla

Yes, FIRST EDITION CARDS! will be available! These are in very limited quantity, so if you want them, you'd better be quick!


Once you've exhausted the dealer hall, stop by the gaming room to play some new games! Just look for the huge rabbit banner on the 4th floor of the convention hall.

I'm looking forward to seeing you there!


Sorry, comments are closed for this article.

7 comments:



Wolfvonwolfhousen on Jul 10th, 2018 @ 12:03 AM
I a Am new to this and I already love this card game

Jed_Meistro on Jul 9th, 2018 @ 09:43 PM
Hopefully a similar offer can be done when Furoticon will be attending the 2019 FurCon @ SanJose? That's about the only time I will be able to participate in one of the events...

Auroradragon7 on Jul 4th, 2018 @ 11:46 AM
Damn I wish I could go. I'd love to be there for this.


Nezumi12 on Jul 4th, 2018 @ 11:43 AM
wish i could be there. i'd love to get my hands on some of those early sets.
and the great thing is i actually have some money (just not the time/transportation)
ah, well... i'll just have to be sure and get in on the beginning of the next game :)

ezekiel_tyr on Jul 4th, 2018 @ 10:55 AM
man wish i could be out at AC lol but hopefully will catch you all at mff

Kaia_Cougar on Jul 4th, 2018 @ 09:13 AM
Damn guys, did you clean up the house again? :P

Wish I could be there. Sounds like some great stuff.

LadySikerra on Jul 4th, 2018 @ 08:01 AM
Oh, man, I so wish I could make it. Looks like it'll be a blast!


Older news