First off, a gaming group is forming! Kikagoro (Philip), Suna, Delphi-vinn, Pharrox, Ken, Nobuko, Avery, and Irishfox are forming a monthly Furoticon gaming group in the Novi, MI area! If you'd like to join, visit the Furoticon forums and post in this thread!

----

Driving from Virginia to Michigan is an adventure! After an 11-hour drive, I made it to Furry Connection North with only an hour to set up before the dealer's room opened!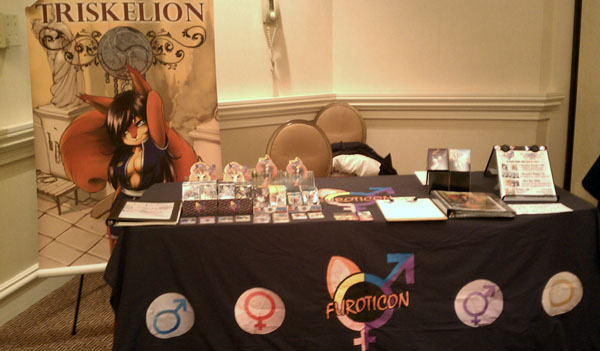 The table of cardy-cards!

I got a nice corner-spot with room to stretch out and set up our Sukouri banner. Much obliged, FGW staff! I didn't have enough boxes to stand her up high, but any chance to show off Sukouri is great!

Once the dealer's room closed for the day, I got a chance to enjoy the con. One of the places I went was the lego room, where one table had been usurped by people who wanted to play Furoticon! I offered a quick how-to-play tutorial, then suggested they all play a game! Because there were six of them and they didn't know who to play with, I suggested they get into 2 teams of 3 players and play one large game. That way I could teach everyone at the same time.



Philip, Ken, Pharrox, Suna, and Mess. Not pictured: The first guy who orgasmed.

Philip played Jamlin d'Gaar, who became a bit dangerous wearing bondage gear!



With 13 pain counters on her, Jammie was ready to give 16 pleasure to anything that touched her!

Everyone had fun until around 8:30, when Suna finally submitted to Philip and Pharrox. We took a quick break and then ran the tournament at 9 PM. It was a Sealed tournament, meaning everyone got 50 randomized cards and made a 20-card deck out of them. Suna, Mess, Philip, Runik, Delphi-vinn, Darrel, Lizard Man 7777, and Charlie competed. Philip came out on top with 8 points, with Delphi a close second place with 7 points.


Furry Connection North - April 2011
Format: Sealed
Rank
Name
Points
1
Philip
10
2
Delphi-vinn
9
3
Suna
8
4
Lizard Man 7777
7
5
Charlie
6
6
Ken
5
6
Mess
5
8
Runik
2





After the tournament, we played some Werewolf, and called it a night.

Saturday was another fun day in the dealer's room. I took suggestions for Saturday night's tournament, and the consensus was to play on teams. Each player brought their own 40-card deck and split off into teams!



This whiteboard was awesome. I used it to keep track of everyone's stamina throughout the game.



Teammates were placed on opposite sides of the table.



They played fiercely. "Oh, there's a Giant Cock over there," said IrishFox as he tried to take down Delphi. In retaliation, here's Delphi Thrusting Pharrox's only Furre, leaving Pharrox just as defenseless as himself against everyone for an entire round!



It didn't work in Delphi's favor, however.



I told everyone to smile. In Michigan, that apparently means thumbs-up, haha. So, with Delphi out of the game, Philip was left alone, with the other three teams duking it out. Even though everyone was enjoying themselves, there were still a few rules questions. They were a little confused about who could pleasure The Gay, to which I responded, "He's gay. He likes dick." Everyone understood the rules after that!



"Ken, you just got your dick licked."

"Yeah, Fuckin' drive-bys."



This is Lazy Horse. Look at how lazy he is.



The game was rough. Nobuko's otherkin were devastatingly arousing. Philip continued to sit back and create a strong defense. Nobuko took down Irishfox's Gay tank. The Gay was all over the place, making many Furres orgasm, but finally he succumbed to Nobuko's harem. As Irishfox asked, "Why'd you do that? My solid defensed turned into just a fox and a dildo!"



Suna, who played a very dangerous deck consisting of Tegome Aburana, Tomorrow's Welts, and Titties, was brought down by Nobuko when he had only 6 cards left in his black book. If Nobuko hadn't done that, Suna would've been unstoppable and likely would have won in just a few turns after that. Nobuko was in love with the game, and oddly said, "This game is really great. When I get drunk I get honest. I'm sorry." I laughed. I knew what he meant.



With only three players left, Irishfox and Nobuko realized that they had to team up against Philip if they had any chance of winning. Irishfox, unfortunately, didn't have anything left in his deck that could put a dent in Philip's bondage girls! Irishfox's last words were, "I'm gonna use 1 to refresh the dildo. Then I'm gonna use 2 to swing with the dildo. And then the dildo smacks him for 3."



They should've finished Philip off when they had the chance! Nobuko and Irishfox had nothing left, so it was only a matter of time until Philip orgasmed them both. They called it a game there, with both Nobuko and Irishfox conceding to Philip. It was an amazing 5-hour game! After that, they declared that they had to start up a local Furoticon gaming group! If you're in the area and you'd like to join up with them, visit the Furoticon forums and post in this thread!




Furry Connection North - April 2011
Format: Team Multiplayer Constructed
Rank
Name
Points
1
Philip
15
2
Delphi-vinn
8
2
Nobuko
8
4
Avery
5
4
Ken
5
6
Irishfox
2
6
Pharox
2
6
Suna
2


Check out the current standings to see everyone's total scores!



Then we left to play more werewolf! The were-hamster and were-gerbil finally won a game, so we no longer have to play with them, yay! Then we went to bed!




That guy's leg is totally broken.

On Sunday, I sold out of all the Furoticon cards I brought! Then I went to play more werewolf, Furoticon themed! And with that, the con was over. I had to drive 600 miles back to Virginia. Boohoo! But then this happened on the Ohio Turnpike: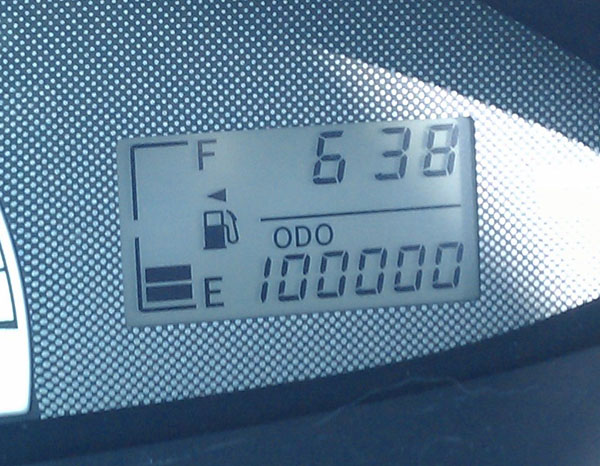 Woohoo, 100,000 miles!

See you all next con!









Older news