Hey there everyone!

We wanted to touch base now that we've received over 100 responses on last week's poll. Given the bulk results, we think we've got a very good idea of what our core audience is interested in going forward, and we've measured that response against our own interests and current game ideas.

The result is a game that Seppel, Tegome, and Taz are already in development mode on! It's hard to slow them down once they've hit a good idea, and this is one that we believe will be even more successful than Furoticon!

Let's break it down:


Format

We're abandoning the trading card game (TCG) format in favor of an expandable card game (XCG) format. XCGs have core sets, expansion packs, and deluxe expansions, but do not utilize a random distribution of cards, which means that collecting all the cards necessary to play or own will be much more straightforward. (There will still be a "collecting" element if you'd like to own multiple copies of any single card, of course.)

There was almost an even split between desiring a competitive vs cooperative game on the poll. What the designers have decided is that they're going to create a base competitive gameplay, and they will leave the door open to a cooperative model once the base game is done.


Accessibility

TCGs in general favor people who are already familiar with a TCG gameplay style, and Furoticon definitely fit into that mold, which meant that TCG beginners ended up paying the educational price.

This new game rejects the core TCG concepts in favor of a never-before-seen deckbuilding experience. The strongest piece of Furoticon's gameplay is the bed step, and so the designers are porting that particular piece to the new game system. This means that there will be some familiar dueling aspects to the new game!


Art & Theme

Over 80% of you decided that you just HAVE to have an adult-rated game! I'm not going to lie, I honestly assumed that if given the chance to start over, you all might decide to go in a different direction - and, to be fair, just over 12% did ask for a more modest "pin-up" style of art.

Then there were the results of the type of stories you'd like to see - just over 55% of the vote went to brand-new content! And, finally, a full 60% want us to stick to fully furry fun.

What this means for me, as Tail Kiss Studio's in-house author and main content creator, is that I'm gonna be able to delve into worlds and characters that I've put off for the last few years! I've already got a great plot line in mind for the new game, which brings us to...


What's The Next Step?

The designers are doing what they do best at the moment; the new game will take another few weeks to be put together. Then there will be a call for playtesting - we are already planning on using Tabletop Simulator, so you will be able to play on-line!

Here's the plain and simple truth, though - it is expensive to print these cards. When we stopped creating new Furo sets, we largely automated our usual processes, which meant paying people to attend conventions for us and to handle shipping product every week. We simply do not have the same financial stores that we used to.

In the past, we used to take on the bulk of the financial risk when printing the sets and then used preorders to fill the coffers again. This meant sometimes taking out loans and relying on credit cards for everyday purchases, but that debt was usually short-lived. Now that we have little ones to feed, that sort of debt is no longer a comfortable risk.


This Is Where You Come In

We will be running a crowdfunding campaign upon completion of playtesting.

Our goal is to have the game completely functional and capable prior to the campaign. We will be financially handling some things - including a new logo for the (as-of-yet unnamed game) and graphic design for the new card layouts, etc.

But everything else will be up to our community and your support, up to and including new art for the cards. We have already determined the cost of printing based off of what we've paid for old sets plus a reasonable rate of inflation. We already have a concept of how many individual cards will need art, so we have an idea of a base art budget. There will be an update later on that details what to expect for these numbers and the campaign.

In the meantime, complete this short poll to let us know how you might be able to support the future campaign!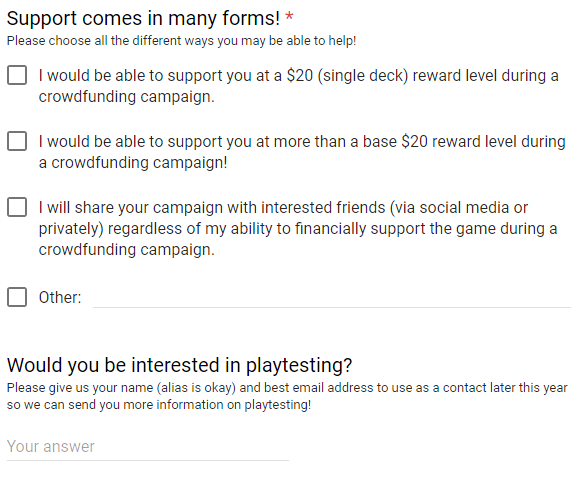 Thank you all so much as we continue to move forward in development!

Sorry, comments are closed for this article.

8 comments:



LadySikerra on Feb 27th, 2018 @ 03:50 PM
I'm finally in a place financially where supporting a Kickstarter or something of that nature would definitely be doable for me, so whenever you all get that up and running, I'll be more than happy to chip in!

CallistaSkip on Feb 27th, 2018 @ 07:12 AM
@Nezumi - Support comes in lots of different forms. Playtesting can get pretty intense, and I definitely appreciate that you're more practical in your abilities than hopeful!

@Ezekiel - XD

@cuddles - Hopefully the crowdfunding campaign is just one piece of the puzzle!

cuddles on Feb 26th, 2018 @ 05:57 PM
Trying to get some promos right now, but after that I will give what I can to help this game out.


ezekiel_tyr on Feb 26th, 2018 @ 02:29 PM
poles are my favorite part of this hole thing :3

Nezumi12 on Feb 26th, 2018 @ 12:08 PM
while i'd love to do playtesting, i've never felt comfortable doing so over the internet. mostly because i'm not exactly the most confident in my skills regarding computer building/programming, but partly because the power grid where i'm living has been targeted several times by squirrel separtists resulting in about 4 technology-free days in the last 3 weeks.

i will, however donate to whatever crowd funding platform you use and will definitely put the word out on social media (not that i use it a lot) and even talk to the guy that runs the local comic/game shop.

CallistaSkip on Feb 26th, 2018 @ 08:33 AM
@Kaia - Thank you! We're still deciding on a platform -- Kickstarter technically doesn't allow for adult content, but we also don't technically need to use adult content to talk about the new game and what we'll be offering, you know?

@Giggle - We understand (re: playtesting)! We are so lucky to have such an awesome crowd of fans :D

GiggleHyena on Feb 26th, 2018 @ 04:16 AM
Well, this is awesome! I can throw some money at you but that is all I am able to do thus far. My time is very limited and thus... I can not play test this new format. Best of luck with everything though!

Kaia_Cougar on Feb 25th, 2018 @ 10:52 PM
I look forward to seeing what you guys come up with. Count us in for the Kickstarter...or whatever platform you go with.


Older news