Want us to make a NEW game?

Please answer 5 short poll questions to help us further understand the game you want to play!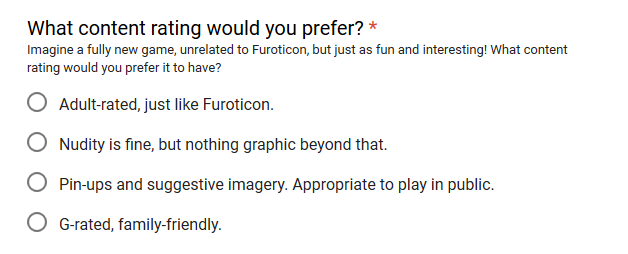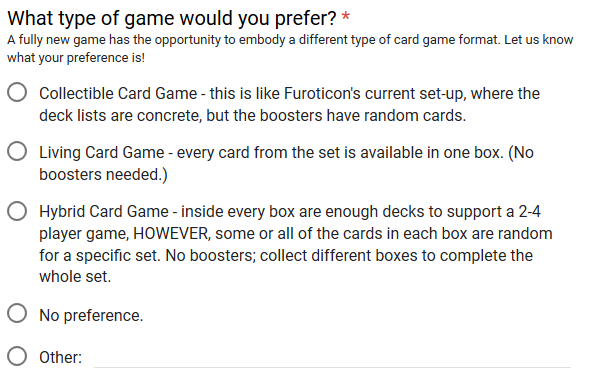 When we made the difficult decision to bring Furoticon to a close in 2016, we never imagined the outpouring support that would continue to flow in from all our dedicated fans. We have gone on to achieve a variety of personal goals in the last two years, and when we look at where we were and where we are now, we feel that we have a new perspective - on running a business together, on developing games, and on what we want to see in the community.

We don't feel that it would be worthwhile to try to pick up Furoticon in its current form. Instead, we are considering a variety of new ideas that we think would be interesting and exciting to introduce to our fans.

Thank you!

-- Callista Skip and Seppel

Sorry, comments are closed for this article.

8 comments:



ShadowWolf515 on Feb 23rd, 2018 @ 05:48 PM
Well said Cuddles

cuddles on Feb 22nd, 2018 @ 05:44 PM
The most fun came from not playing with friends, but going to a convention and drafting to see how others used card interactions in there pool. It will be hard to find another game that could come close to Furoticon.

LadySikerra on Feb 21st, 2018 @ 01:37 PM
I took the survey, but honestly, I just want to see anything from you guys. I think you are very strong game designers, and though I love the way that Furoticon combines adult content with deep strategy, I'll just be happy with whatever you decide to do.


ShadowWolf515 on Feb 21st, 2018 @ 06:39 AM
I'll support you guys no matter what

Yuri-Bloodfang on Feb 20th, 2018 @ 09:06 PM
Looking forward to seeing what the future holds for Furoticon!

JavelinChimera on Feb 20th, 2018 @ 04:05 PM
You guys have indicated a strong grasp of game design with Furoticon. As a bit of a connoisseur of the card game market, I feel like a furry-themed competitive game that is playable in public and distributed in an LCG-style format would give you your highest impact.

Nezumi12 on Feb 19th, 2018 @ 01:18 PM
i saw the headline for this post and nearly shouted "YES!!!" out loud.

so, ummm... i think that maybe, if you were up for, I might be interested in a new game. ;)

just gonna hit "post" on this, and then i'm heading to that survey.

ezekiel_tyr on Feb 18th, 2018 @ 02:47 PM
furoticon has been a very fun game for me


Older news