Are you ready to get your hands on some one-of-a-kind 5-foot Furoticon art banners? We've saved some of the best for last!

The final five banners auctions are up now! Once these are sold, they're gone forever, so don't wait!



Click to get them!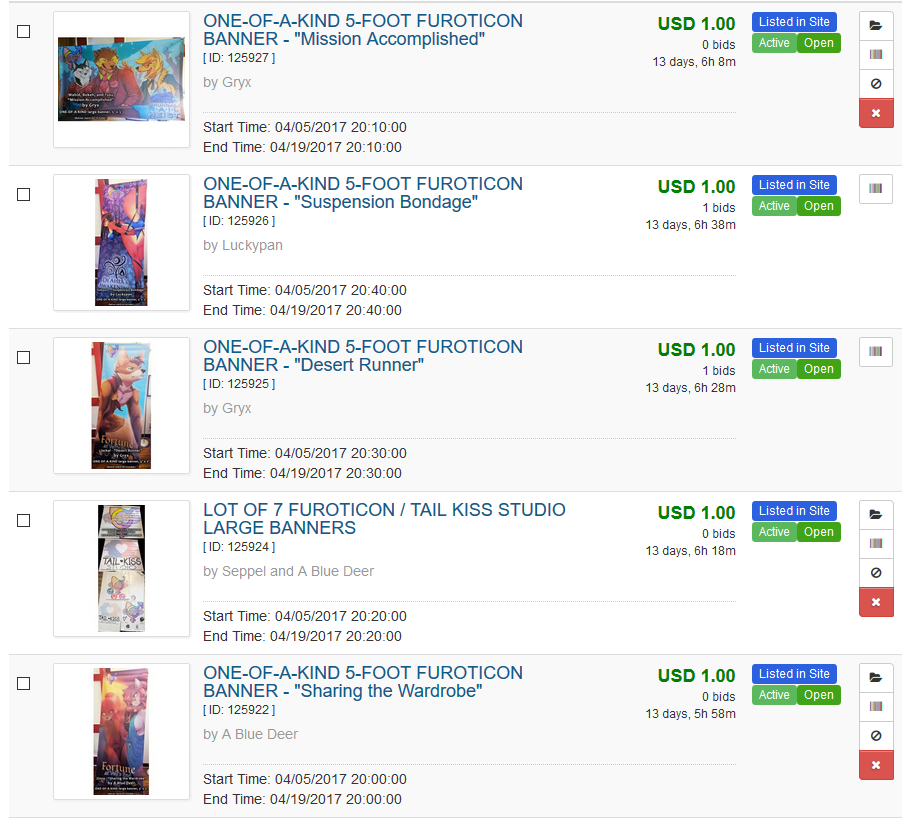 Wahid, Bokeh, and Tsou celebrate their successful heist!
Sukouri enjoys her days as an elite courtesan!
A Jackal braves the Kemah Karah desert to deliver your package!
All the Tail Kiss Studio and Furoticon banners and table runners!

Zinna tries out her girlfriend's wardrobe!




These auctions end April 19th!


Sorry, comments are closed for this article.

8 comments:



ezekiel_tyr on Apr 11th, 2017 @ 05:01 PM
if only mcfc didn't burn threw my wallet this year

Jaxon on Apr 9th, 2017 @ 05:15 PM
These look amazing! If only I had the space...

cuddles on Apr 9th, 2017 @ 05:13 PM
The Jackal! I remember seeing him when signing up to play in some of the games.


LadySikerra on Apr 7th, 2017 @ 09:57 AM
Well, I'll keep an eye on these, too, but they'll probably get snatched up faster than the other ones!

Seppel on Apr 6th, 2017 @ 06:43 PM
They're made of vinyl!

Emeraldkestrel on Apr 6th, 2017 @ 02:58 PM
What are the banners made out of? Plastic or paper or something else?

Nezumi12 on Apr 6th, 2017 @ 02:56 PM
ooo... i deff want some of these.
especially the ones with the Tail Kiss Studio logo (sooo cute)

Seppel on Apr 6th, 2017 @ 12:18 PM
I'm running low on items to auction off! ❤


Older news