It's finally here! The full Climax set is now in the card spoiler for all to see! Every last card -- every wolf, rat, graduate, and dancer!




As always, if you see any errors, feel free to report them in the comments!


But wait, there's more!

Don't forget to log in so you can rate the hotness and the coolness of each card!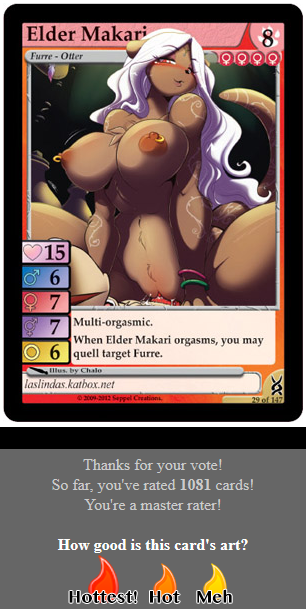 Click to vote!

If you rate over 500 cards, you'll win a Master Rater badge on your profile!

Sorry, comments are closed for this article.
11 comments:
Jaxon on Dec 11th, 2016 @ 06:52 PM
nice, i'll have to pick one up at an event!

ezekiel_tyr on Dec 10th, 2016 @ 10:09 PM
I think i've rated over half the set of furoticon lol

Astrid Varelse on Dec 9th, 2016 @ 08:50 PM
@Scrimno: Hotness is appearance based, Coolness is how cool you think they are in a deck


cuddles on Dec 9th, 2016 @ 02:39 PM
Was wondering when the card spoiler was going to be updated.

Nezumi12 on Dec 9th, 2016 @ 02:35 PM
woohoo! time to go poke a look at some awesome art and kick-ass cards.

Scrimno on Dec 9th, 2016 @ 12:15 PM
Scratch that. It's how cool in a deck they'd be.

Scrimno on Dec 9th, 2016 @ 12:07 PM
Is this rating system new? And what does "hot" mean here? The most sexy or the most useful?

Seppel on Dec 9th, 2016 @ 09:07 AM
@BlackDragon: Oops. Those are old versions of the cards. There were only 10 promos in the College boxat first, but last minute we had room for 2 more. We added Taneka and Makari, both in the top 10 highest voted cards.

blizleopard on Dec 9th, 2016 @ 08:44 AM
I think I already have Master Rater from last time.

LadySikerra on Dec 9th, 2016 @ 07:20 AM
Ooh, nice, I've been waiting for these to go up. I always love the card spoilers; they let me at least get a feel for all the cards from any given set even if I can't afford to buy them right now.

Astrid Varelse on Dec 8th, 2016 @ 09:56 PM
The Promo cards seem really weird...

It starts at card 1359 with "Somn, the High Shaman", my physical promo number is P13 instead of P11, and that continues until Niko (1366). All of them are 2 promo numbers behind my physical prints. -- The rest are fine :)

I assume that is a mistake of some sort? [Also, not sure if it's supposed to go P1-P20, or if the intent is to go P13-P20, then P1-P12 to separate the voted cards]


Older news