Less than one week until Climax is released! There's still over 50 cards to preview, so lets do more card previews!

Let's dive in to some exciting cards in the Grads vs. Dancers deck!

...

Let's see more Practiced Furres!

...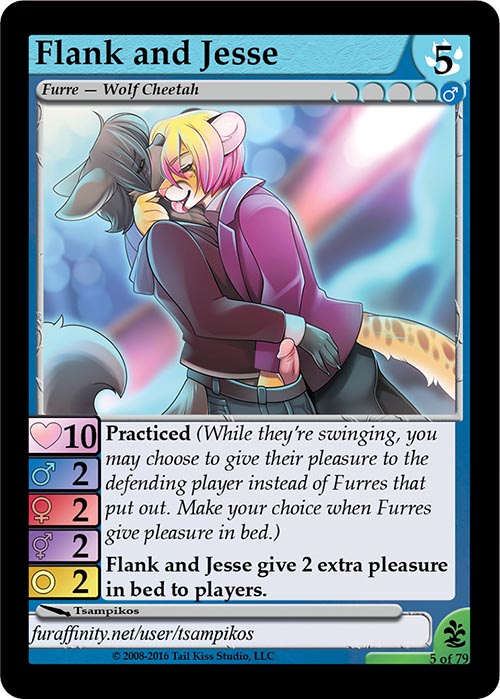 Flank and Jesse make your choice easy -- either 2 pleasure to Furres, or 4 pleasure to opponents! They're so inexpensive to play, too!

...




We haven't formally previewed Tonguebound Trio, even though everyone guessed the card correctly when we made it a mystery card.

You know, for being such an awesome 1st Edition card, I haven't mentioned it in news articles since October 2008! That was 9 months before Furoticon originally came out!

When Tonguebound Trio enters the scene, you draw a card. When they orgasm, they'll go to the couch, which triggers their Multi-orgasmic skill, bringing them back into the scene for one final orgasm. And guess what -- you get to draw another card!

That's right -- just for leaving and coming back, they net you a card! And if you can get them to keep coming back, then you'll draw even more cards!

Of course, the Dancers have their own way of pouncing back!

...




Nicki makes your opponent discard all those pesky cards! Just make hir pleasure your opponent in bed!

Next, here's an adorable card that, in development, was affectionately called, "The Little Combo Piece That Could."

...




Diveka was holding a 'foxy' party, but this Costumed Crasher is no fox! Or is they? Costumed Crasher is every Furre type on your couch, plus 'Phoenix' and 'Shapeshifter'.

I'm sure you can imagine what havoc this little phoenix can do. With just a few - specific - cards, Costumed Crasher can easily reach 10 or 20 Furre types!

You could draw your entire deck, play free cards, or even just win the game.

To be able to play all these cards, you can get some help from the following dual-gender Haven cards:

...




Draw a card, get a Female or Otherkind GP! Easy enough!

...




Pleasure your opponent, get a Male or Herm GP!

Very importantly, these two cards can trigger multiple times! If you drew 3 cards, you get 3 GP! If you pleasured your opponent with 3 Furres, you get 3 GP!

Well, that's escalating quickly!

Which card is your favorite? Tell us about it in the comments below!

Furoticon: Climax preorders are open! Get your cards now!

Don't forget your preorder bonus!


Sorry, comments are closed for this article.

13 comments:



Kaia_Cougar on Jun 30th, 2016 @ 08:59 AM
These new havens are interesting...they're not super specialized, but neither are they an easy fit into most decks. I think Diveka's Flat is the better of the two, though. VIP room needs practiced, greedy, or some other sort of furre direct pleasure to be reliable.

BlackDen on Jun 27th, 2016 @ 08:42 AM
Love the artworks, especially the one of tonguebound trio.

LadySikerra on Jun 27th, 2016 @ 05:18 AM
Costumed Crasher is probably my favorite card in this post. Would love to get my hands on that. There are so many possibilities...


rainydaydance on Jun 26th, 2016 @ 10:28 PM
So many new cards and all the fun to be had!

Nezumi12 on Jun 26th, 2016 @ 10:08 PM
@Taz: thank you for clearing that up. having played TCGs off and on for 20+ years, i've seen similar abilities that apply even while the card is in the deck or hand.
also, the word order on S&B makes "Surprise" seem like a furre type. "Surprise Furre - (furre type)" might have been less confusing, though it's possible it would have been just as confusing, but for different reasons.
either way, i again thank you for the clarification.

ezekiel_tyr on Jun 26th, 2016 @ 08:35 PM
so many more combos with these cards

polkakitty on Jun 26th, 2016 @ 02:40 PM
Well, I guess that's one way you can simultaneously answer the questions of "which one is Jesse and which one is Lance" and "which one is Flank and which one is Butch" (although I guess Butch and Flank already had separate cards in Strawberry....)

And it looks like there are more multi-gender Havens, but they're going in a very different direction than I would have expected. Instead of being a way to get a consistent source of two types of GP early in the game, they initially only give you one GP of one kind, but can give you more GP of both types for certain events, which can be repeated multiple times in one turn.

Of course, almost all methods of either drawing cards or dealing pleasure in bed to opponents require spending AP, so I guess these Havens don't provide good support for cards that have both high GP costs and high AP costs. (So, ironically, Diveka's Flat isn't good for playing Osfia and Diveka.) But with the right setup, they might actually make it viable to use the 5-GP 0-AP cards in multi-gender decks....

Taz on Jun 26th, 2016 @ 12:49 PM
@Nezumi12: First of all, Surprise is not a Furre type. The reasons for that are complicated, but the point is made moot even further by the fact that Costumed Crasher only has their skills when they are in the scene.

The new GP Havens are interesting and quite unlike anything we have done before! Balancing them was a tricky endeavor, and I am personally fascinated to see how well players use them. In particular, VIP Room looks to be an excellent GP Haven choice for decks that use Taz . . .

HamHunterX3 on Jun 26th, 2016 @ 09:45 AM
So super sexy! I want! Lol

blizleopard on Jun 26th, 2016 @ 08:43 AM
Honestly, the Flank and Jessie card is just adorable to look at on it's own.

Zeneth_Starr on Jun 26th, 2016 @ 08:29 AM
Wow! That Phoenix. I like her. Love the art.

But also...those lands! I was just thinking about an otherkind that does alternate forms of card draws. Hmmm

cuddles on Jun 26th, 2016 @ 06:54 AM
Love the new havens.

Nezumi12 on Jun 25th, 2016 @ 10:08 PM
one thing i'd like to know is WHEN does Costumed Crasher gain all those furre types?
if it gains them while in your hand, would that mean it gains Salacca & Boli'ana's Surprise furre type, allowing it to be played as a reaction?


Older news