Hey, so a lot has happened in the past two years! Remember that winter where all got a free week-long vacation at Mt. Mesa Ski Lodge? My boss at the time, Ashamai, met up with an old friend named Buck, who happened to be the manager of the lodge. If you don't remember, I wrote about it, somewhere.

Anyway, like I was saying, Ashamai was my boss at O'Hardley's Triangle.

...



Pencils by ECMajor, Color by Sigil



O'Hardley's Triangle is a very regal and popular club. Ashamai didn't cut corners when it came to making sure the club stayed modern and good-looking!

...



Art by AcidaPluvia



She's even added a VIP room to the club, where all the high-rollers of the club could see me for some very personal dances!

...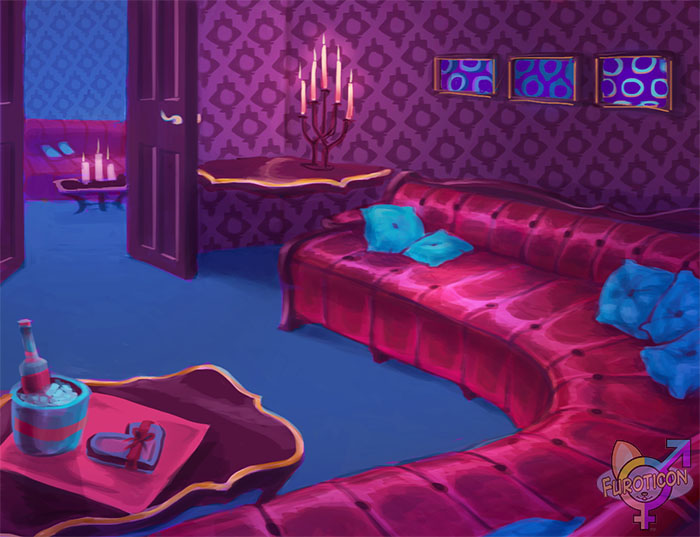 Art by AcidaPluvia



It's so much fun to dance, and I'm honestly going to miss dancing as often as I do.

Why, Lily, why? Are you quitting?

Well, not exactly. Ashamai called me into her office last week. We had a little sit-down, and she told me that she was ready to move on. Turns out she and Buck really reconnected, and they're ready to move in together. She's now an official co-owner of Mt. Mesa Ski Lodge!

What does that have to do with me?

Well, she needed to leave O'Hardley's Triangle with someone who knew the ins and outs of the dancing business. Someone with a good head on her shoulders. Someone who would live up to the title of Mistress.

That's right, ladies and gentlemen. You may call me Mistress.

...



Art by Gryx



And I'm going to be hosting the hottest graduation party! Are you ready? Do you think you can handle me? I'd like to see you try!

The party begins July 1st!

ORAL Graduation: Grads vs. Dancers is available for preorder June 1st!

Sorry, comments are closed for this article.

11 comments:



cuddles on May 29th, 2016 @ 06:00 AM
I wonder if Tandy and Lewis will see reprints too.

BlackDen on May 26th, 2016 @ 08:26 AM
Here's my application letter =D Let's goooo~

yiff22 on May 26th, 2016 @ 06:17 AM
That is one gorgeous bunny. I would love to work for her!


sirdan87 on May 25th, 2016 @ 06:44 PM
Ashamai is my favorite Dragoness!

LadySikerra on May 25th, 2016 @ 02:45 PM
Ooh, so nice to see more of the inside of the club. Lily was not kidding about Ashamai keeping it regal. And I'm so glad that she's taking over! I'm really looking forward to this set and seeing where all the characters end up.

blizleopard on May 25th, 2016 @ 09:17 AM
I wonder if there will be new locations and location-based mechanics that were not in the initial set design with these new pictures coming in.

Jaxon on May 24th, 2016 @ 10:18 PM
Looks fun! I love all these expansions to the college set (which is the one with my favorite artwork).

Nezumi12 on May 24th, 2016 @ 09:40 PM
pretty sure this is the first time i've ever wished i was a pen...

polkakitty on May 24th, 2016 @ 08:54 PM
That's definitely the same picture as the original Ashamai card, it just isn't cropped as far in, so the setting seems more expansive, for lack of a better description.

(Actually, I have to wonder if this means Ashamai will be reprinted, because that would make her the first special Owner to be reprinted. Mistress Lily could make a great special Owner as well....)

Kaia_Cougar on May 24th, 2016 @ 07:08 PM
Yes, Mistress. Whatever you desire, Mistress. ;)

And it looks a little more vibrant than the original owner card, but that might just be a higher definition picture.

Zeneth_Starr on May 24th, 2016 @ 05:15 PM
Mmm...Lovely feet and a lovely bunny.

That art looks familiar for Ashamai but different. Am I imagining things? Is it a remastered version of an original piece or is that all new art?



Older news