Did you know that Furoticon cards tell stories? If you just have a handful of random cards, it may seem like a jumble -- but if you place them all in the correct order, they tell a story!

Officer Bandjar orchestrated Bokeh and Tsou's train robbery in Brundali Rail Heist! While some of their crew of thieves are out for mere spoils, Bandjar knew a certain tigress was aboard the Brundali Express. The morning of the heist, Bandjar's lust was greater than it had ever been, and he found himself needing release multiple times before departing!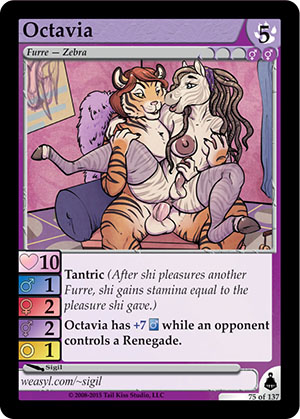 At last, the heist was on, and Bandjar found his way to the tigress's private car immediately.

Meilianhari was a beautiful fashionista from the good side of the tracks that he had met briefly on the streets of Tenggabana. It was lust at first sight, but they had only been able to exchange secret glances and love notes from afar - before now!





After assisting Meili into her afternoon wear, Bandjar had to check on the status of the robbery. When he returned for a second romp, the tigress was gone! Asking around, he learned that Meilianhari was last seen with Cirosouyat, the fox. His advances to the fox fell on deaf ears.





Bandjar conceded; Cirosouyat beat him at his own game of lust.

There was still plenty of time before the heist was over, so Bandjar spent the rest of his time in the brothel car!






Oh that day alone, Bandjar had seven climaxes and seven partners, all thanks to a single tigress.

Over the next few weeks, Bandjar and Meilianhari exchanged a few more letters, but opportunity was against him. The heist changed the lives of the Kerno, and his leadership remained in high demand. Though he never saw Meilianhari again, she remained in his thoughts forever.

That's not all of the heist! Explore all 100+ cards for the full story!

Bandjar, Meilianhari, and all their cards can be found in Brundali booster packs!

Get yours today!

Sorry, comments are closed for this article.

7 comments:



cuddles on Nov 27th, 2015 @ 07:09 AM
What a great day for Bandjar. Wonder if he asked Meilianhari to join the Kerno.

ezekiel_tyr on Nov 22nd, 2015 @ 11:04 PM
always ending with a dick out :P

LadySikerra on Nov 22nd, 2015 @ 08:23 PM
Love Octavia; hadn't seen that card before, and all the stripes are so nice.


blizleopard on Nov 22nd, 2015 @ 04:09 PM
It was a good idea for them to get all the planning done in advance. Because DANG.

Animeguy2 on Nov 22nd, 2015 @ 04:03 PM
very nice. if only I could draw like this.

Mess on Nov 22nd, 2015 @ 12:51 AM
These cards look real fun. The story aspect makes them more fun

Nezumi12 on Nov 21st, 2015 @ 12:26 PM
Wow. now that is one randy tiger.
it's too bad they didn't have a chance to meet again. maybe in another story/life?


Older news