Did you know that Furoticon cards tell stories? If you just have a handful of random cards, it may seem like a jumble -- but if you place them all in the correct order, they tell a story!

Bokeh and Tsou's heist is the central theme around Brundali Rail Heist! While some of their crew of thieves are out for mere spoils, Bokeh has his eyes set on something far more valuable...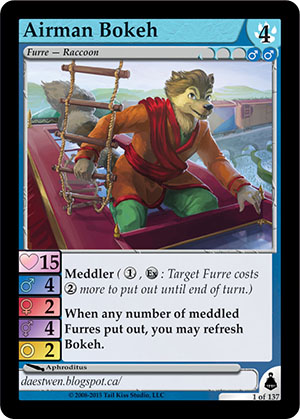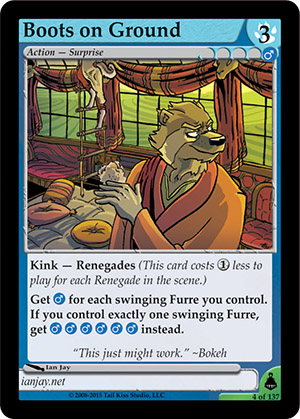 That's not all of the heist! Explore the full 100+ card set for the full story!

Tsou, Bokeh, and all their cards can be found in the Going All In starter deck!

Get yours today!

Sorry, comments are closed for this article.

5 comments:



rainydaydance on Nov 9th, 2015 @ 09:35 AM
Love love love it. Cant wait for the next set!

Nezumi12 on Nov 5th, 2015 @ 12:17 PM
wow. that's quite a lot of cards for this story, especially considering how few cards there were for other stories.
then again, this IS the main story line for this set, so it makes sense that there'd be more to it.

ezekiel_tyr on Nov 4th, 2015 @ 04:21 PM
you know i always love how these cards work out with the story


blizleopard on Nov 4th, 2015 @ 09:38 AM
You know, you almost feel sorry for Harum. Taken down that easily by Tsou.

scott13 on Nov 4th, 2015 @ 12:58 AM
Aww... they forgot to include rimjob.


Older news